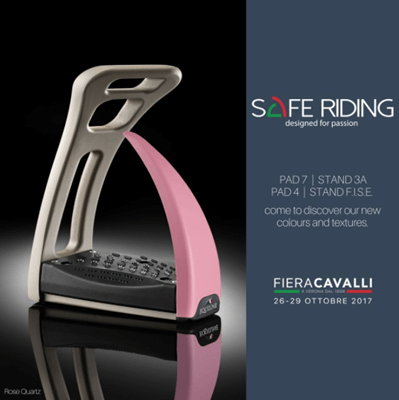 Safe Riding will attend Fiera Cavalli Verona from 26 to 29 October 2017 with 2 booths: one at Hall 4 – F.I.S.E. stand and one at Hall 7 – stand 3A.
Come and discover our S1 stirrups, created from riders to riders: security, comfort and glamour – all in one product.
Since 119, Fiera Cavalli Verona has been gathering the equestrian world. 4 days of competitions and the 17th edition of Jumping Verona, the only one Italian date of Longines FEI World Cup™, are the best moments for every professional rider.
The event is open to the public and families. Hippotherapy, speed events, Westernshows and Horseball as well as Kids Island with shows, music, educational workshops and games designed to entertain children.
Discover more: www.fieracavalli.com